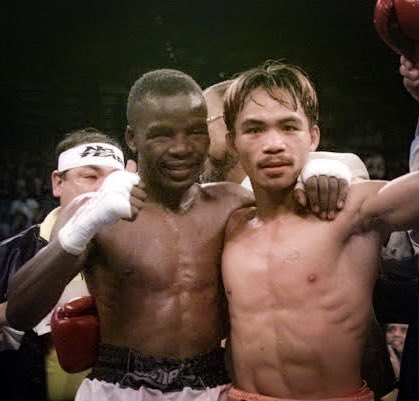 MANILA, Philippines — From one boxing champion to another, Manny Pacquiao paid tribute to Lehlo Ledwaba on Saturday following the news of the South African's passing reportedly due to COVID-19.
The two warriors shared the ring together back in June 2001 where a young Pacquiao, who was making his United States debut as a replacement fighter on two weeks notice, stunned Ledwaba to win the IBF super bantamweight crown.
"So sad to hear the passing of Lehlo Ledbawa! He was a true champion in and out of the ring and left behind an amazing legacy. RIP champ!" Pacquiao posted on social media.
So sad to hear the passing of Lehlo Ledbawa! He was a true champion in and out of the ring and left behind an amazing legacy. RIP champ! pic.twitter.com/6A0FT77MO6

— Manny Pacquiao (@MannyPacquiao) July 3, 2021
Pacquiao's upset ove…
Keep on reading: Pacquiao honors 'true champion' Ledwaba