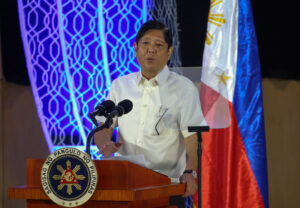 PHILIPPINE STAR/ KRIZ JOHN ROSALES
By Kyle Aristophere T. Atienza, Reporter
PHILIPPINE President Ferdinand R. Marcos, Jr. would probably struggle to deter potential political instabilities during his six-year term, analysts said at the weekend, citing his weak political party and pressure from his allies.
Opposition from the Liberal Party and left-leaning groups and the camp of his predecessor Rodrigo R. Duterte are also a threat to his rule, they added.
"As we have seen in previous administrations, members of the House of Representatives jump to the ruling after elections," said Jan Robert R. Go, who teaches political science at the University of the Philippines. "We are not seeing this. Instead, Mr. Marcos is relying on the coalition with other parties for his agenda to come through."
The Partido Federal ng Pilipinas, the president's political party, would likely remain weak as long as he himself fails to use it to promote his agenda, he added.
Mr. Duterte, father of Vice President Sara Duterte-Carpio, is taking an active role in the former ruling PDP-Laban party after he was given a fresh term as chairman during the party's national assembly last week.
While saying that his party is "not putting up a strong party against the party of the president," Mr. Duterte said his colleagues would serve as fiscalizers if needed.
"The president can be very sure that in the coming days we will fiscalize," Mr. Duterte, 77 said. "If we see anything bad, we will raise our voice, because that is the essence of our presence here."
Arjan P. Aguirre, a political science professor at the Ateneo De Manila University, sees Mr. Duterte's pronouncement as a threat to the Marcos government.
"It's very obvious that Duterte is reminding the president not to betray him especially on the investigation of the bloody drug war and not to abandon his other unfinished projects and initiatives," he said in a Facebook Messenger chat. 
"It was just a moment of flexing political muscles by a former president who still knows how to use his popularity and network to influence the government."
During its national assembly, the PDP-Laban passed a resolution urging the government to intensify the war against criminality and illegal drugs that has killed thousands of suspects.
'WEAK'The public should expect the older Duterte to take a more critical stance on some of the policies forwarded by Mr. Marcos and his allies, Mr. Go said.
"After all, the party's allegiance remains with Duterte and his daughter Sara," he said. "Tensions will arise if Marcos will not be lenient with Sara. The danger there is if he becomes too lenient that his position becomes weak and Sara gains the foothold."
Hansley A. Juliano, a political economy researcher studying at Nagoya University's Graduate School of International Development in Japan, doubts PDP-Laban's posturing as a fiscalizer.
"By claiming to be the fiscalizers, PDP-Laban is trying to position itself as the genuine opposition and edge out the Liberal Party, which has tried and failed to lead the opposition for the past six years," he said in a Messenger chat. 
"How much fiscalizing can you really expect when even in official parliamentary
governments, coalitions always run the risk of minority party cooptation?" he asked. "I genuinely doubt it's fiscalizing — it hides under the pretense of loyal opposition to neutralize any and all critical, progressive and radical views, even those beyond the moribund Liberal Party."
Last week, the Liberal Party elected former Senator Francis "Kiko" N. Pangilinan chairman, who replaced former Vice-President Maria Leonor "Leni" G. Robredo. Rep. Edcel C. Lagman was elected president.
Ms. Robredo ran in the 2022 presidential election but lost to Mr. Marcos by a huge margin. Her running mate, Mr. Pangilinan, also lost his bid for the vice presidency. 
At the council meeting, Mr. Pangilinan reminded his partymates of their "critical role"  amid "massive systemic disinformation" and the "erosion of democracy."
Mr. Lagman vowed to lead LP with principled activism, maintain the party's development of popular volunteerism and forge alliances with groups "with the same ideals, convictions and objectives."
"The selection of Pangilinan and the others gives us an idea of how the party intends to move on following the defeat in May 2022," Mr. Aguirre said. Ms. Robredo's decision to run as an independent candidate in May "tells us that the party will now begin to rebuild for 2025 without Robredo at the helm."
Mr. Go said it would be hard for the party to take the lead opposition role since it also faces issues. "While they keep on presenting a different narrative, the Liberal Party has failed to surpass their morality-driven narrative. To be an effective opposition, they should start working through the grassroots."
The left-leaning coalition Bagong Alyangsang Makabayan is among those highly critical of Mr. Marcos, whose family is still facing court cases of ill-gotten wealth and unpaid taxes.
"The relationship between the Liberal Party and the left is tricky," Mr. Go said. "They have to resolve possible contradictions that would make alliances difficult," he added, citing the exclusion of left-leaning candidates in Ms. Robredo's Senate slate.
Opposition forces should be united for a "deeper cause," he said. "They must be able to provide a counter-narrative or proposal that would present greater benefits for all. To do this, the different opposition groups may have to take Marcos' battle cry during the election — unity."