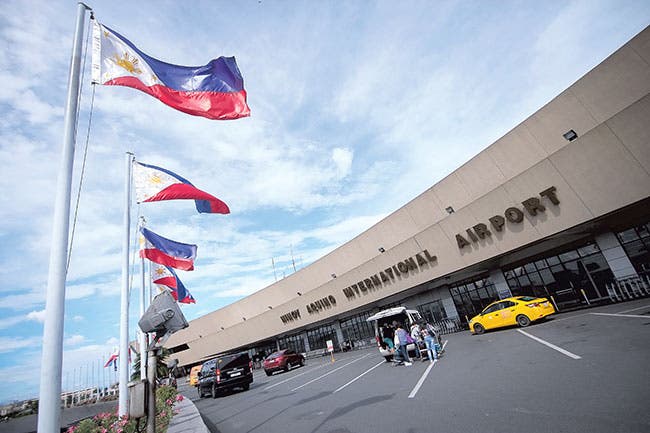 More companies are expressing interest to rehabilitate the Ninoy Aquino International Airport (NAIA) after aviation authorities dumped the offer of the Megawide Construction Corp.-GMR Infrastructure Ltd. consortium to do so, earning stinging criticism.
During a Senate hearing on Thursday, Ed Monreal, Manila International Airport Authority (MIAA) general manager, said his agency received offers from Philippine Airport Ground Support Solutions and San Miguel Corp. for the project.
Philippine Airport Ground Support Solutions is part of the Luzon International Premier Airport Development Corp. (Lipad), which operates Clark International Airport in Pampanga province.
Monreal's remarks come two days after the MIAA revoked the original proponent status of Megawide-GMR's NAIA rehabilitation proposal over the consortium's allegedly questionable financial clout.
They also confirm news reports on Wednesday that San Miguel was vying to run the decades-old airport.
In a text message, San Miguel President and Chief Operating Officer Ramon Ang confirmed the plan, but is yet to reply to The Manila Times' query on when it submitted its operations and maintenance proposal to the government.
The leading conglomerate is set to start preparatory works for its P740-billion Manila International Airport (MIA) project in Bulakan town, Bulacan province early next year after signing the local unit of a Dutch dredging company, Royal Boskalis Westminster N.V., to handle it early next year.
San Miguel's interest in NAIA prompted infrastructure-oriented think tank Infrawatch PH to say that it "gives rise to a clear suspicion of collusion for the irregular revocation of the second private proponent's original proponent status: that the OPS revocation was made to accommodate another private proponent to rehabilitate NAIA."
Terry Ridon, Infrawatch PH convenor, urged the government to examine the conglomerate's proposal, flagging financial muscle and anticompetition concerns given that it is about to implement its Bulacan project.
"Controlling two airports within the Greater Capital Region may give rise to higher terminal and airport fees for passengers, airlines and service providers," he warned.
"Furthermore, strict scrutiny should be undertaken on [San Miguel's] debt-equity ratio, given that it will already undertake high financial leverage to fund the development of its Bulacan airport costing at least P735 billion," he said.
Earlier, the think tank warned that rescinding the OPS could endanger President Rodrigo Duterte's infrastructure legacy and reduce public confidence in the government's public-private partnership projects.
On Megawide-GMR, Monreal said during the hearing that if the consortium requested for reconsideration request, his agency would present it to the board.
Earlier, the Philippine-Indian group said it immediately file a motion for reconsideration for its junked offer after warning that the revocation of its OPS would delay the country's economic recovery.
"A critical step toward the Philippines' national economic recovery was delayed further by vested and corrupt interests who have spent millions in trying to bring down the only capable and qualified player" to redevelop the airport, it said on Tuesday.