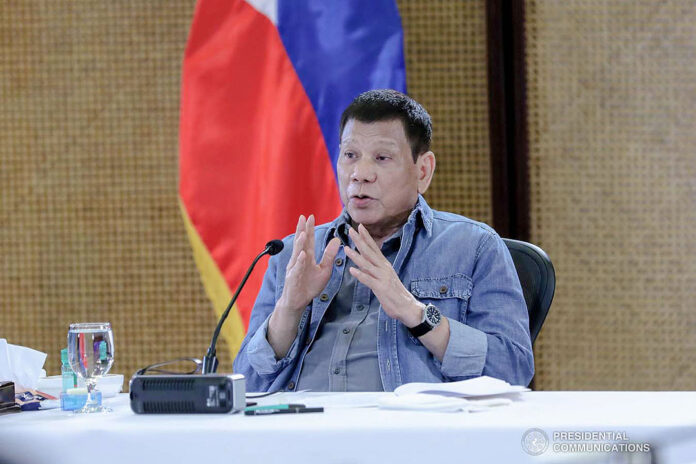 MEMBERS of the Philippine's oldest organization of lawyers have said that President Rodrigo R. Duterte's directives to executive branch officials, police, and the military to ignore the Senate's probe on the use of pandemic funds are unconstitutional.
The Philippine Bar Association, Inc. (PBA), in a statement posted on its social media page on Monday, asked Mr. Duterte, "a brother in the legal profession, to immediately recall his twin directives that in our view constitute clear violations of the Constitution."
The PBA explained that Mr. Duterte's orders go against the separation of powers of the three branches of government — executive, legislative, and judicial — under the Constitution, which in turn "upsets our system of checks and balances."
It further said that the directives are "detrimental" to Filipinos who demand public accountability from officials and others involved in the alleged deficiencies in pandemic spending and is a "disservice to the principle of civilian supremacy over the military."
In a televised public address Monday night, Mr. Duterte announced that he has issued a memo to bar his Cabinet officials from participating in the ongoing investigation of the Senate Blue Ribbon Committee into the government's controversial pandemic deals, specifically those linked to Pharmally Pharmaceutical Corp.
"We cannot allow blatant disrespect of resource persons at the ongoing hearing of the Senate Blue Ribbon Committee," Mr. Duterte said in a taped Cabinet meeting aired Monday night.
On Sept. 29, Mr. Duterte also ordered the military and police to ignore the Senate's warrants of arrest in relation to the probe.
Several business groups and academic institutions have earlier urged all parties involved to cooperate with the Senate investigation as the Filipino people "deserve a full and fair accounting" of how the government spent taxpayers' money.
Meanwhile, senators also asserted that the President's directives are "unconstitutional."
"This has all the red flags of unconstitutionality. It only covers this particular blue ribbon committee hearing. I cannot see any other memorandum as blatantly unconstitutional as what we have before us," Senate Minority Leader Franklin M. Drilon said during Tuesday's hearing.
Senator Panfilo M. Lacson said the mandate was "Gordon-specific," since the ban did not include investigations under the House of Representatives, referring to Senator Richard J. Gordon, chair of the Blue Ribbon Committee.
At Tuesday's hearing, Commission on Audit (CoA) Chairman Michael G. Aguinaldo said the Senate's probe had provided significant contributions on their intention to undertake a special audit of transactions relating to Pharmally.
"You are in the right position to ask questions about that (dubious transactions)," Mr. Aguinaldo told Mr. Gordon during the hearing.
The Senate probe was prompted by the CoA's 2020 report flagging the Budget department's procurement service, which awarded the pandemic supply contracts to Pharmally. — Bianca Angelica D. Anago, Kyle Aristophere T. Atienza, and Alyssa Nicole O. Tan