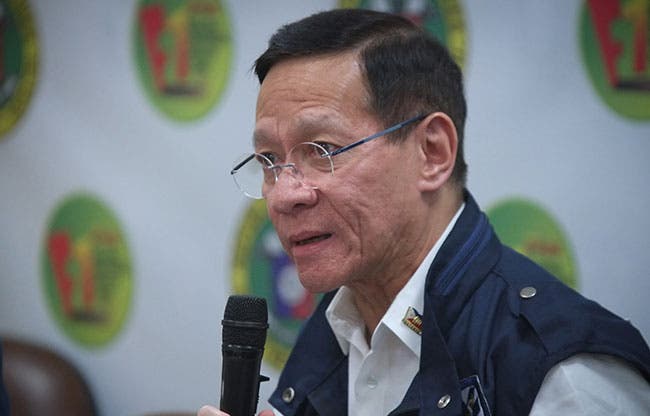 IT was Health Secretary Francisco Duque 3rd who allegedly "mishandled" the negotiations with Pfizer for the delivery of Covid-19 (coronavirus disease 2019) vaccine in January 2021.
This was according to Philippine Ambassador to the United States Jose Manuel "Babe" Romualdez, Sen. Panfilo Lacson said in a text message on Wednesday night.
Foreign Affairs Secretary Teodoro Locsin Jr. said on Twitter that he and Romualdez had been assured of 10 million Pfizer vaccines to be financed by the World Bank and the Asian Development Bank (ADB) to be shipped through Fedex to Clark International Airport in January 2021.
"But somebody dropped the ball. I have steel ball bearings. I just need a slingshot. We did not miss the bus because we were slow to act. Babe and I were fast. Offers poured in. But there are none so slow as those who never had the intention to catch the bus," Locsin tweeted on Tuesday.
"This is the gist of my telephone  conversation with Ambassador Romualdez this morning after I asked Sec[retary] Locsin 'who dropped the ball' in reference to his tweet earlier," Lacson said.
The senator said that the negotiation between US Secretary of State Michael Pompeo and Locsin, as arranged by Romualdez, started as early as July.
"Thus, they could have secured the delivery of 10 million Pfizer vaccines as early as January next year, way ahead of Singapore but for the indifference of Sec[retary] Duque who failed to work on the necessary documentary requirement namely, the Confidentiality Disclosure Agreement (CDA) as he should have done," Lacson stressed.
He continued, "The country representative of Pfizer was even following up on the submission of such documentary requirement."
Finance Secretary Carlos Dominguez 3rd had also assured Romualdez and Locsin that money would be made available. "As we now know, Singapore has the vaccines and we don't," Lacson said.
He added, "Sec[retary] Duque's reaction that negotiation with Pfizer is still ongoing after he branded as false Sec[retary] Locsin's statement that somebody dropped the ball is true but such negotiation, according to Ambassador Romualdez is a renewed initiative after they missed the bus the first time."
"The more important question is, how many lives would be saved between January and when, if at all, the vaccines may be made available again to Filipinos," Lacson stressed.
Sen. Francis Pangilinan said the government should be transparent in its plans for vaccine procurement to ensure that not a single peso is wasted or corrupted.
"I believe that [vaccine czar] Secretary [Carlito] Galvez will do his best to meet the people's expectations of a corruption-free, effective, and timely government response. How I wish we could say the same of others in the IATF (Inter Agency Task Force) working with him," he said.
"This is why the Senate must as representatives of the people guard against corruption and incompetence in the vaccine rollout," Pangilinan added